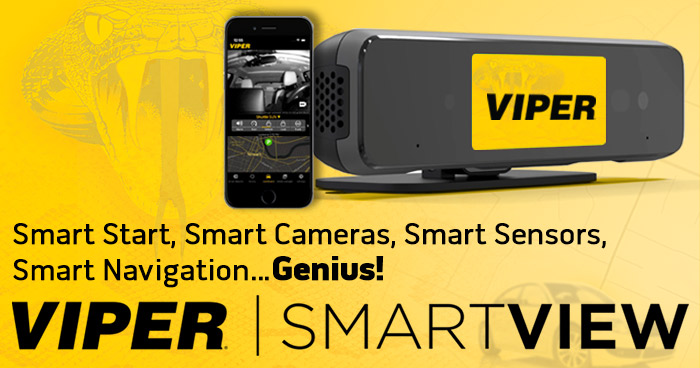 Directed Announces Viper SmartView – a Revolutionary Connected Dash Camera
~ Pairs with Directed DS4 Systems for A New Level of Vehicle Security ~
VISTA, Calif. (January 07, 2020) – Directed today announced a new connected dash camera, Viper SmartView, capable of pairing with Directed's line of DS4 systems. SmartView builds on Directed's long history of innovation in the aftermarket automotive industry and offers consumers a new level of vehicle security.
Viper SmartView provides monitoring solutions for consumers. It integrates several advanced technologies into a single product, including a 4G LTE-based, always-connected system; dual video cameras; telematics-capturing OBDII; WiFi and Bluetooth; GPS; displays; security system and motion sensors; and shareable video and media.
"SmartView sets the bar for in-vehicle dash cameras by adding smart features and DS4 connectivity to a fully-featured HD camera," according to James Turner, SVP & GM, Remote Start and Security at Directed. "It's another great addition to our growing DS4 infrastructure, but can also be used as standalone. However, the real power of SmartView is unleashed when connected to a DS4 security system. Consumers can immediately check out the interior and surroundings of their vehicle when they receive a security notification. It's vehicle security for 2020 and beyond. Viper SmartView is perfect for both individuals and families."
Viper SmartView not only records while the vehicle is in motion, but when paired with a DS4 system, will record when activated by a warn-away or full-trigger security event. This allows consumers to have peace of mind even when they aren't near their vehicles. With Live Look, vehicle owners can take a look inside their vehicle at any time.
With built-in cellular connectivity, SmartView is capable of controlling DS4 systems as well as provides a built-in WiFi hotspot. SmartView also provides OBDII diagnosis and fault code reporting.
"The Viper SmartView provides next-generation features and connectivity, and we expect it to be a big hit with both our dealers as well as consumers," said Bob Struble, CEO of Directed. "This solution builds on Directed's legacy of innovation in the aftermarket."
Not a Directed Dealer? Please visit
https://www.directed.com/contact/becomedealer
or call 1-800-876-0800 to become a directed Dealer today!
About Directed
Directed is a world leader in automotive electronics, the largest North American designer and marketer of consumer-branded vehicle security and remote start systems, and a pioneer in the connected car space. Its products connect more consumers to their vehicles than anyone else on the planet. Directed markets its broad portfolio (sold under Viper®, Clifford®, Python®, Autostart®, AstroStart®, Alcohol Detection Systems® and other brands) through leading national retailers and specialty chains. For more information, contact Chris.Pearson@directed.com.