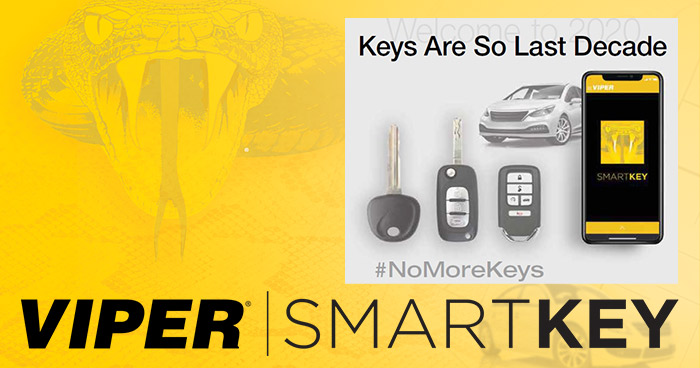 Directed Demonstrates SmartKey Technology at CES2020
~ Innovative Solution Allows a Smartphone to Function as a Vehicle's Key ~
VISTA, Calif. (January 08, 2020) – Directed today announced that it is demonstrating Viper SmartKey, nextgeneration technology that enables practically any Push-to-Start vehicle to be controlled with a smartphone instead of a key. The concept builds on Directed's heritage of innovation in the remote start and connected car space.
SmartKey is a revolutionary product that allows consumers to ditch their car keys and use their smartphone as a digital car key. Built on Directed's award-winning DS4 and SmartStart technologies, SmartKey is designed to replace the key fob entirely. SmartKey runs on Directed's Vehicle Control Platform combining cellular, Bluetooth and near field communication to create a seamless and secure experience.
"We're excited to demonstrate our Viper SmartKey technology at CES this year. We showed a concept last year and we've been developing it ever since," said Geoff Weathersby, VP & GM, Connected Car at Directed. "SmartKey finally brings the car into the connected lifestyle and liberates drivers from having to carry expensive-to-replace key fobs. SmartKey allows owners to share digital car key access with family members or employees through the app or even just a text message."
Drivers can lock, unlock, start and control a SmartKey-enabled vehicle using just their smartphone. Digital access to a SmartKey vehicle can be shared between family members, co-workers, or even temporarily with a guest via text message. A backup digital key card about the size of a credit card allows for backup control. SmartKey works with almost any Push-to-Start vehicle and is compatible with most DS4 T-Harnesses and accessories.
"At Directed, we've built our product strategy around several megatrends we see affecting society. The rise in popularity of smartphones is one of them, and the spread of things like ride-sharing and vehicle-sharing is another," according to Bob Struble, CEO Directed. "SmartKey allows us to capitalize on those trends in a big way. It will enable more efficient vehicle use by families, ride-sharing companies and small fleets."
SmartKey will be released in the summer of 2020. To learn more visit
www.viper.com/smartkey
.
Not a Directed Dealer? Please visit
https://www.directed.com/contact/becomedealer
or call 1-800-876-0800 to become a directed Dealer today!
About Directed
Directed is a world leader in automotive electronics, the largest North American designer and marketer of consumer-branded vehicle security and remote start systems, and a pioneer in the connected car space. Its products connect more consumers to their vehicles than anyone else on the planet. Directed markets its broad portfolio (sold under Viper®, Clifford®, Python®, Autostart®, AstroStart®, Alcohol Detection Systems® and other brands) through leading national retailers and specialty chains. For more information, contact Chris.Pearson@directed.com.