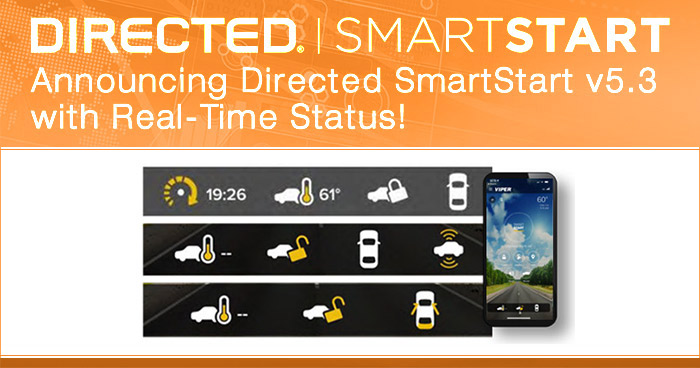 Directed Releases SmartStart v5.3 with Real-Time Vehicle Status
~ Real-Time Status Delivers an Enhanced Vehicle Control Experience ~
VISTA, Calif. (January 09, 2020) – Directed today announced its latest revision of its popular SmartStart vehicle control app now offers integrated real-time status to users. This latest update will give users a vehicle control experience similar to Directed's famous 2-way LCD remotes.
Vehicle status information will be available directly in the SmartStart app dashboard and includes information like remaining remote start runtime, cabin temperature, doors locked or unlocked state, doors opened or closed state, trunk open, hood open and panic indicator. Each available dashboard – Modern, Classic and Map – will receive the improvement.
The update affects owners of SmartStart Pro or Connect hardware who are using a Directed digital system such as DS4, DS3 or DB3. The app will be available on January 22nd for iOS and Android.
Besides real-time status information, the app will also include enhancements to the Status menu, including fuel level odometer and battery voltage (fuel level and odometer are vehicle-dependent).
"Long time Directed fans remember when our 2-way LCD remotes were the standard for vehicle control. They liked being able to just look down at the screen and immediately know if their doors were locked or how much run time was left on the remote starter. That information was always available in SmartStart, but not in the main dashboard," according to Geoff Weathersby, VP & GM, Connected Car at Directed. "We think this improvement will be a huge hit with our dealers and consumers. SmartStart truly is the best vehicle control solution on the market."
Not a Directed Dealer? Please visit
http://www.directed.com/contact/becomedealer
or call 1-800-876-0800 to become a directed Dealer today!
About Directed
Directed is a world leader in automotive electronics, the largest North American designer and marketer of consumer-branded vehicle security and remote start systems, and a pioneer in the connected car space. Its products connect more consumers to their vehicles than anyone else on the planet. Directed markets its broad portfolio (sold under Viper®, Clifford®, Python®, Autostart®, AstroStart®, Alcohol Detection Systems® and other brands) through leading national retailers and specialty chains. For more information, contact Chris.Pearson@directed.com.