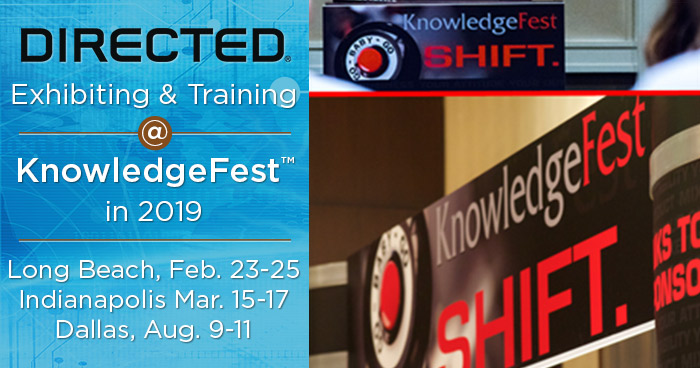 Directed Exhibiting and Training at Knowledgefest Shows in 2019
VISTA, Calif. (February 11, 2019) – Directed announced today the expansion of its relationship with the Mobile Electronics Association (MEA) as Platinum Partners. Directed also confirmed its plans to exhibit and train at all three Knowledgefest shows in 2019.
"Strengthening our partnership with MEA is a fantastic way to showcase Directed's industry leadership in product innovation and support", said Directed CEO Bob Struble. "We look forward to sharing our latest and greatest in Long Beach, Indianapolis, and Dallas."
This month Directed will be at the Long Beach Convention Center from the 23rd through the 25th. Attendees can experience Directed's industry leading innovation in Booth 1614, where they'll see the latest on the DS4 Digital Remote Start and Security Systems, the Viper SmartStart Pro Connected Car Product, Viper Powersports Security and GPS products, and Directed's Ignition Interlock business, Alcohol Detection Systems.
Directed's booth will showcase the "Race the CEO Challenge — V2" – a live installation challenge in a Jeep Wrangler. To highlight the speed and simplicity of DS4 and SmartStart Pro installations, Directed's CEO Bob Struble throws the challenge flag for Knowledgefest attendees. Participants in the install race will try to beat Bob's time and compete for prizes. Directed's Race the CEO Challenge will be available during all show floor hours.
During trainings, Directed Product Specialist Representatives will coach up attendees on the latest technical updates in Directed's evolving product line. Show attendees can choose from four different timeslots, so there's no reason to not attend. All training attendees will receive a Directed giftbag full of Directed swag and as an added bonus, Directed will give away Denon headphones and Bluetooth speakers during trainings.
Finally, to show appreciation for visiting its booth, Directed will be raffling off three Denon / Definitive Technology sound systems. Come by the booth for more information.
Training sessions for Knowledgefest Long Beach are scheduled as following:
Saturday, February 23 from 12:30pm-1:30pm in Seaside 3B
Sunday, February 24 from 6:00pm-7:00pm in Seaside 4A
Monday, February 25 from 9:00am-10:00am in Seaside 4A
Monday, February 25 from 10:15am-11:15am in Seaside 4A.
Not a Directed Dealer? Please visit
Become a Directed Dealer
or call 1-800-876-0800 to become a directed Dealer today!
About Directed
Directed is a world leader in automotive electronics, the largest North American designer and marketer of consumer-branded vehicle security and remote start systems, and a pioneer in the connected car space. Its products connect more consumers to their vehicles than anyone else on the planet. Directed markets its broad portfolio (sold under Viper®, Clifford®, Python®, Autostart®, AstroStart® and other brands) through leading national retailers and specialty chains. For more information contact Chris.Pearson@directed.com.